Garcinia Cambogia Extract HCA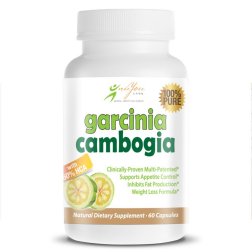 Garcinia Cambogia Extract - Clinically Proven for Rapid Weight Loss with Pure Garcinia Cambogia and Multi-Patented 60% HCA Extract. Packaged in 60 Veggie Capsules which provides a Full 30 Day Supply of 1000 Mg per daily serving.
Helps reduce your craving for food by suppressing your appetite
You will eat less and still feel satisfied
Full strength, extra potent, natural ingredients help you to burn fat and lose weight fast
Your moods will improve as serotonin levels increase
Lowered cortisol levels help reduce your hard to lose belly fat
Order Now on Amazon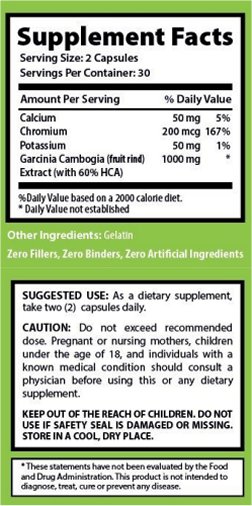 Garcinia Cambogia and the natural extract HCA (hydroxycitric acid) work together to potentially double or triple your weight loss efforts.
nuYou Lab's special blend of ingredients inhibits the conversion of carbohydrates into fat and instead promotes an increase in the formation of glycogen, causing a reduction in hunger. Not only is fat burned and your hunger signals reduced but at the same time your serotonin levels increase aiding in mood, sleep and appetite control (often emotional issues that lead to overheating).
Common Benefits When Using nuYou Labs Garcinia Cambogia Extract
You can experience fat burning results whether a woman or man.
You won't feel like eating all the time as it helps to control your appetite
It's great for the woman or man looking to lose 10 - 20 - 50 pounds or more
You don't have to work out or eat a special diet for the supplement to work
What Can You Expect Garcinia Cambogia Extract To Do For You?
All natural weight loss
No side effects
Blocks fat production
Suppresses appetite
Increases serotonin levels
Supports healthy lipid levels
nuYou Labs Garcinia Cambogia Extract Capsules are manufactured to our stringent standards of excellence in the USA under strict FDA guidelines established as GMP (Good Manufacturing Practices) and can be trusted to provide you maximum effectiveness and health safety.
Order Now on Amazon
Testimonials

Wow! I am amazed at the quality of this product! I started to see results during my second week of using it. It has definitely helped with my cravings and my desire to overeat . . . This product is the REAL DEAL!!...
Mama Block
nuYou Best Sellers
Get the results you're looking for! Choose one of our Best Sellers from the products below: